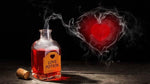 Whether you're searching for the perfect romantic scent, or you're in the business of making and selling, selecting the right fragrances for your romantic range, we know, scents can be tricky.
For indulgence, love and romance we've got you covered. By looking at trends from previous years and some of our most popular fragrances, we've put together this list which we think has something for everyone. Of course, if you don't spot anything you fancy you can always head over to our website and browse the full selection of over 70 fragrance oils.
For your sweetheart – Bubblegum 
As sweet as can be, this sugary bubblegum fragrance is sure to bring a smile to that special someone's face. Just make sure you've got some real sweets to hand – it might make them peckish! Bubblegum Fragrance Oil
---
For your flowery beau – Jasmine 
This Valentine's Day give flowers that will last longer than that supermarket bouquet. This oil works beautifully in a candle, surrounding you with the heady aroma of jasmine and a blend of ylang-ylang, tuberose, geranium and subtle musk. Jasmine Fragrance Oil
---
For the lover of bubbles – Prosecco
If your other half enjoys a glass of bubbles, try our Prosecco scent. It's perfect in a diffuser so they can enjoy the crisp bubbly scent at any time of day – just be prepared with a bottle of the real stuff for the evening!  Prosecco Fragrance Oil
---
For the rugged love in your life – Whiskey 
This rugged fragrance will delight whiskey lovers. Sweet caramel is highlighted with vanilla and spicy cinnamon and clove. Whiskey Fragrance Oil
---
For those who like it fruity – Lemon & Orange Blossom 
This citrus fragrance will be adored by fruit lovers, thanks to its aroma of Sicilian lemons, tones of orange, mandarin and lime blended with orange blossoms. Lemon & Orange Blossom Fragrance Oil
---
For those who love roses – Rose & Lavender 
Roses are a staple of Valentine's Day and this lovely scent combines the flowery fragrance of freshly cut roses and lavender. It's a classic floral pairing for a reason! Rose & Lavender Fragrance Oil
---
For those who like the outdoors – Sea Salt & Driftwood 
A great scent for people who enjoy spending time outside and enjoy a long walk along the beach. Since you might not be able to get there right now, use this fragrance to transport you to the beach. Sea Salt & Driftwood Fragrance Oil
---
Whether you're producing a whole product range or making a single candle, we hope you've found the perfect scent. If you didn't find what you were looking for, don't worry – we've got over 70 different fragrances on our website. You can find them all here.