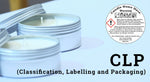 Candle CLP - What's it all about?
If you're making candles, chances are you've stumbled upon CLP, but what does it mean?
CLP stands for "Classification, Labelling and Packaging", it was introduced in June 2015, this means that all candles made will need to inform customers of any chemical hazards within the candle. On top of this EN15494 gives some standardised safety warnings that most makers choose to include on their labels - these communicate the top risks when burning a candle. 
Below you'll find all the pictograms you're likely to need when labelling candles. We will also include a downloadable folder link at the end of this document so you can download and keep then to hand.
What needs to be on the label?
From the details above you can see an example of one of our CLP Labels for a 10% fragrance mix in a candle, here's what's on it:
Product identifier - Can be a Fragrance name or Candle/Product name
Signal Word 
Hazard (H) Statements 
Precautionary (P) Statements 
Product identifier (Substances)
Pictograms - Can be one or more (sometimes none)
Company name, address and telephone number 
Nominal quantity (eg 200g) - When being sold
Product Identifier (Name) - This is the name of your product, you could use the fragrance name i.e. "Chocolate Orange" or name it something more unique "Velvet Chocolate & Orange Candle".
Signal Word - Words such as "Warning" or "Danger", these will be triggered depending on the Hazard statement that may be triggered.
Hazard (H) Statements - A hazard statement is a phrase that describes the nature of the hazard in the substance or mixture. A hazard statement will be determined by the application of the classification criteria.
Examples of hazard statements include:
Causes serious eye damage
Toxic if swallowed
Toxic to the aquatic life with long lasting effects
Precautionary (P) Statements - A set of instructions that advise the user how to avoid or minimise the hazards that may be caused by the hazardous mixture.
Examples include: 
IF ON SKIN: Wash with plenty of soap and water. 
Avoid release to the environment.
Wash hands and other contacted skin thoroughly after handling. 
Product Identifier (Substances) - Article 18(3) of CLP provides that the identity of all substances in a mixture that contribute to the classification of the mixture in certain hazard classes must be given on the label. A maximum of four chemical names are to be included, unless more are needed to reflect the nature and severity of the hazards.
Pictograms - Pictograms are a specific warning image designed to correspond to every relevant H Statement. Examples of these are: 
Relevant Pictograms as stated on the CLP or MSDS must be included, along with their H Statements, for all mixtures over 125ml. When designing you need to ensure they're at least 1cm square in size. They must be diamond shaped and show a black image on a white background, with a red frame. 
We've put together a file with high resolution pictograms here.
Can I use any CLP that match my fragrance name?
No.
When creating your CLP you will either need to work from the MSDS that you have been supplied by the company you purchased your fragrance from or the CLP label that they may have (usually to a set maximum fragrance load (FL), we supply up to 10% FL) - you will not be able to use any manufacturers CLP, even if it has the same name as the fragrance you use as some fragrance oil sellers (like us) also sell custom fragrances that nobody else sells.
The good news is that you don't need to change the CLP for each fragrance if you sell in different strengths, if you have a CLP for a 10% FL then you can use the same label for if you sell a candle with an 8% FL, you will however need to ensure the volume or weight is correct for the candle size.
What information do Your Crafts offer?
We believe in being as helpful as we can and at Your Crafts we want to give you as many tools as possible to make your life simpler, when you purchase fragrances from us we also give you access to all the MSDS & IFRA information, it's on the fragrance product page, just click the link on the product page and you'll be taken to the individual fragrance oil's file. In the file will also be some CLP labels that you can print. 
You will most likely want to use different shapes or sizes so all you need is to make sure your label contains all the information on the label we provide and be sure not to exceed the percentage the label covers and you're all set.
We also offer to print your CLP labels for you, there is of course a charge for this but we print high quality, gloss labels in house, at the moment we offer 50mm & 35mm round labels but will be adding more option - we can also design your labels for you! See the "Safety Labels" category for more information. 
Of course, this article is meant as a guide and our own interpretation of the rules and regulations regarding CLP, we can accept no responsibility for any wrong information or inaccuracies. Regulations change and we may not update this article fast enough of you may be viewing an old article. We also have no affiliation to any link posted (apart from our own website links) and therefore have no control over the content displayed on these sites - we neither endorse or vouch for their validity.