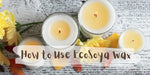 We're very happy to announce that EcoSoya is now part of the huge range of candle waxes we offer. Available in 4 different blends for a range of purposes, EcoSoya wax is an all-natural soy wax that's sustainable, biodegradable and vegan friendly.
How to use EcoSoya candle wax
If you've made candles before, great! There are no special techinques for working with EcoSoya – it behaves the same as any soy wax. If you're a beginner, don't worry, the process is quite simple to learn. The recommended melt point for all EcoSoya waxes is 70 degrees Celsius. Allow the wax to cool to 60 degrees before pouring for the best results. If you want to add fragrance to your candle, do it as close to the pour temperature as possible. This prevents too much of your fragrance oil or essential oil from burning off, leaving you with a stronger smelling candle. The wax can take a fragrance load of up to 12% (10% for Pillar), leaving you free to experiment and find the perfect strength for your favourite scents.
Figuring out which EcoSoya blend is right for you
The EcoSoya range consists of four different waxes – Melt, CB-135, CB-Advanced, and PillarBlend.
Melt EcoSoya Wax – for wax melts and tarts
Melt is unique to this range – a blend specifically designed for making wax melts and tarts. Wax melts have grown in popularity over the years and it's easy to see why. You don't have to worry about containers, wicking or melt pools. You can add decorations like glitter or flowers without stress over whether they'll get caught in the flame or interfere with the wick. If you've never tried making wax melts before, now is the perfect opportunity. There's no need to invest in any special equipment – you can use something as simple as a cupcake case for a mould!
CB-135 EcoSoya Wax – for creamy, natural container candles
CB-135 is a container blend perfect for making gorgeous natural candles. It adheres excellently to containers without any need to preheat them and has minimal shrinkage meaning it only requires a single pour. If you wish to use essential oils in your candles, this is the better choice of the two container waxes in this range. It has brilliant scent throw with either essential or fragrance oils. The wax will produce candles with a soft, creamy white appearance and a smooth, flat top. If you like to use dyes in your candles, we'd recommend CB-Advanced, as CB-135 can potentially bloom (white frosting appears on top) when used with candle dyes.
CB-Advanced EcoSoya Wax – for scented container candles that resist frosting
CB-Advanced is a single pour container blend that's highly resistant to frosting. It adheres well to glass, providing a uniform appearance and smooth top with only one pour. This wax is naturally a creamy white, but it works very well with dyes. It resists bloom and retains colour consistently when burnt. We offer a large range of candle dyes on our website. (Be aware that due to their creaminess natural soy waxes require a higher percentage of dye to wax than paraffin. Keep experimenting until you get your desired colour.) If you make candles with CB-Advanced you can expect them to have a lovely smooth top and create an even burn pool, giving you good hot throw of fragrances.
PillarBlend – an ideal wax for natural pillar candles and votives
PillarBlend is the perfect eco-friendly wax for creating freestanding candles. New technology has given this wax a better melt pool. Creating smooth, creamy candles couldn't be easier – this wax releases easily from moulds, and has great scent throw. If you like eye-catching pillar candles, this wax takes dye very well, with colours being bright and even. If you enjoy making a variety of products, Pillar Blend can also be used to make wax melts and tarts. (Though obviously, we would advise that Melt is the best choice for that.)
Eco-friendly natural candle wax
The main feature of EcoSoya is how, well, eco it is. This is a completely vegan, plant-based wax. It's a soy wax, which is widely acknowledged as the best natural wax for candle making. It's sustainable and biodegradable, making it perfect for the environmentally-conscious crafter. If you pair this wax with essential oils, you get a completely plant-based candle, created purely from nature.
---
We hope you enjoyed learning more about our new range of EcoSoya waxes. Now it's time to get crafting with them! You can purchase all four waxes from our store in quantities from 1kg-20kg